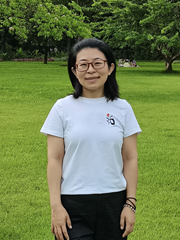 ZHANG Lin
Post-doctoral Researcher

Research: SFL, Discourse Analysis, Ecolinguistics, Corpus Linguistics

Office: Building 5 # 153

Email: zhanglin076 AT 126 DOT com
Education

Research interests

Publications
2019 PhD, Functional Linguistics, Sun Yat-sen University
Systemic functional linguistics, discourse analysis, ecolinguistics, corpus linguistics
Zhang Lin & Huang Guowen. The natural ecology of language: the birth and development. Foreign Language Education, 2019(1).

Zhanglin (Trans.) . Ecolinguistics and globalization. Journal of Poyang Lake, 2018(1).

Zhang Lin. Stratification and realization of the language strata within Systemic Functional linguistics. Jornal of Lanzhou Normal colleges, 2014(6).

Zhang Lin. A comparative study of the interpersonal meaning in English and Chinese editorials", Journal of Gansu Lianhe University, 2008(6).