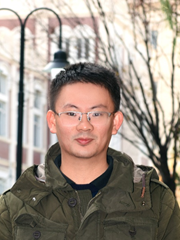 ZHENG Yi
Post-doctoral research

Email: 2020607 AT shisu DOT edu DOT cn
Profile

Publications

Projects
郑奕,语言学博士,上海外国语大学语料库研究院博士后,于2010年获澳门理工学院中葡翻译学士学位、2013年和2019年分别获得葡萄牙里斯本大学语言学硕士、博士学位。
于2019年3月至7月任葡萄牙莱利亚理工学院兼职汉语教师,2020年7月赴上海外国语大学语料库研究院从事博士后研究,硕士和博士期间的研究领域为汉语和葡萄牙语句法对比研究,并涉及自然语言处理和第二语言习得等相关研究,博士后阶段主要研究领域为汉语和葡萄牙语外交话语对比研究、汉语葡语翻译研究和葡语国家中的中国形象研究。参与国家社科基金重大项目和上海外国语大学校级项目3项。在国外期刊发表学术论文2篇,在国外出版社出版的专著中著有论文2 篇。曾多次参加国外举行的语言学学术会议,并做发言。
Zheng, Y., P. Luegi, A. Madeira & G. Matos. "How Chinese learners of L2 European Portuguese interpret null and overt pronouns in forward and backward anaphora". In Revista Linguística, v 14, n. 2, 2018, pp. 291-321.

Zheng, Y. "Acquisition of Backward Anaphora of European Portuguese by Chinese Learners". In Anna Gavarró, ed. 2018. On the Acquisition of the Syntax of Romance, pp. 215-234, John Benjamins.

Zheng, Y. "Aquisição da correferência pronominal catafórica no português europeu por aprendentes chineses". Revista da Associação Portuguesa de Linguística. No 3 (2017), pp. 401-422.

Zheng, Y. Acquisition of Null Subjects in European Portuguese by Chinese Learners - Syntax and Discourse. In Kohlberger, Martin, Kate Bellamy & Eleanor Dutton, ed. 2014. ConSOLE XXII: Proceedings of the 22nd Conference of the Student Organization of Linguistics in Europe (8-10 January 2014, Lisbon), pp. 231-254. Leiden: Leiden University Centre for Linguistics. ISSN: 1574-499X.
国家社科基金重大项目"中国特色大国外交的话语构建、翻译与传播研究"(在研);

上海外国语大学校级项目"《习近平谈治国理政》多语平行语料库及数据库综合平台建设"(在研);

上海外国语大学重大项目"一带一路多语平行语料库的建设与应用研究"(在研);